ICB Exam Registrations
How do the ICB assessment work?
Together We Pass is always here to support students and so we want to keep you updated on everything to do with your ICB exams.
Once you have completed your ICB subject they will need to make sure that you know your stuff. This is done by getting you to sit for an ICB exam. You will need to register with the ICB and pay your registration and assessment fees before you can write your ICB exam at one of the assessment venues.
There are two ways in which you are tested.
Summative assessment (formal exam)
Formative assessment – these are assignments and practicals that you've done over the period of your course.
Your exam will count for 70% of your mark and your PoE will make up the remaining 30%. All your formative assessment work must be added to your PoE folder as you go along, and your final exam papers will be too. This is proof that you have done the work and understand the material.
Important: You can only be assessed if you have entered for the assessment before its closing date, and paid your annual ICB student registration and assessment fees.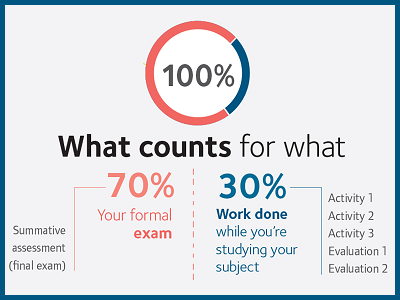 How do I get my results after I have written my ICB exam?
Your ICB exam results will be available on the specified results release date. To find out when your results will be released click here: ICB exam result dates
Here are some important tips to remember:
Results are never given out over the phone
Results for classroom-based college learners are sent to the college
If you're studying via correspondence with a college, or independently, your results will be available on the Learner Portal and will be emailed to you on the day they're released.
How do I get my certificate?
When you complete any of the ICB Programme Levels, you'll get two certificates.
The ICB Programme Certificate is issued by the ICB and shows you have achieved a specific level in a particular stream.
You will also receive your qualification certificate – which is issued by Fasset.
You can expect your qualification certificate from Fasset to arrive about 3 months after your results are released. Your certificate will be posted to you via the ICB.
Get ICB Qualified at Matric College
Matric College offers various ICB courses that you can complete from the comfort of your own home via distance learning. These courses are assured get your qualified and ready to enter the work place. Become a business professional with their industry leading range of qualifications. Start at a NQF 3 (Grade 11 equivalent) and work your way up to a NQF 6 (National Diploma).
They offer the following range of ICB courses; Financial Accounting, Office Administration, Entrepreneurship, Business Management, and Public sector accounting.
Kick-start your professional career with Matric College and the ICB!
Last updated: August 20, 2020